Thank you everyone for all the help, love, support and prayers, our family has received.  No words can describe how grateful we are to have you here and in our lives. 
The life of the outstanding and generous person we celebrate today, my dad, Prospero Galido, was born May 28, 1950, in Loreto, Surigao del Norte, Philippines.  He grew up in his hometown of Loreto until High School where he was salutatorian of his high school class in 1965.
He was a country boy, tuned in with nature, fishing, climbing trees and picking coconuts and helping his parents on their farm.
His parents Odon and Guilberta Gumato Galido, were teachers, his dad a superintendant, and his mom, a principal.  He was the eldest of 6 siblings, 4 engineers, 1 architect and 1 accountant.  In 1970, he graduated with a bachelor of science in mechanical engineering and was a licensed engineer by the age of 20.  In his early career, he worked in a steam power plant, cement plant, and nickel refinery.  In 1975, he became a plant, machinery and equipment operator. He worked for Asian Appraisal for many years before immigrating to the United States.
He was baptized in a Philippine Independent church as a child, and in 1979, when he met my mom, he was re-baptized into the Catholic Church in Manila, got married, and in 1980, I was born.
Mom migrated to the US in 1980, and brought me along when I was a month old.  My dad followed in 1981, where we settled in Santa Ana, CA.
In 1983, my sister was born.  Dad became a naturalized citizen in 1987.  In 1989, our family moved to Whittier, CA and dad worked his way up from plant machinery and equipment valuation consulting with American Appraisal, to taking on Vice President roles at Fortune 500 companies like Pricewaterhouse Coopers, Standard and Poors, a division of McGraw Hill and Duff and Phelps.
Dad's jobs gave him the opportunity to be a well travelled man, having travelled throughout every state in the United States, Mexico, Canada, and many parts of Europe, Australia, and Asia.
My dad, was a humble and a simple man.  He held a vice president position for several Fortune 500 companies.  He was successful and had the choice of buying nicer things, but instead of being materialistic, he, together with my mom, saved, were often frugal and charitable, helped those less fortunate and even sent a few relatives to college.  
After his transplant in 2008, he wanted to give back, and together with my mom, helped finance 2  life-saving kidney transplants, maintenance and medications of a relative.  
He always focused on improving his hometown of Loreto, Philippines.  He pursued the construction and completion of the Loreto library, often donating boxes of books from every possible source he could avail of, including from his former employer, McGraw Hill.  He never got to see the library in Loreto due to his health condition.  He also contributed in providing playground equipment for the disadvantaged children of his hometown.  For more information, visit: loretonian.org
Digging up letters in the garage and text messages on his phone, I found him to be everyone's  "go to" guy for their problems, and he tried his best every time to fix them, even when he was having medical problems of his own.
In 2009, mom and dad were forced to retire, due to dad's unexpected liver failure which required a liver transplant.  With strong faith, perseverance, and the gift of his liver donor, he pulled through being in coma for a month and in the hospital for over 4 months and extensive rehabilitation.  Surviving was not easy!   But, we were very blessed to have had my dad's life extended for 8 more wonderful years with the help of UCLA's top notched liver team and my mom's around-the-clock care.
Through these 8 years, dad had many ups and downs, enduring pain, but often hiding it with a smile.  While likely feeling terrible inside, he hid his pain well especially when my sister and I were around.  Poked over 1000 times in 8 years, he barely had any good veins left.  Each blood draw took multiple tries even by the best experts.
In 8 years, he went through and experienced various pains and suffering – pins and needles, chills, itchiness, night sweats, hypertension, insomnia, anemia, neuropathy, cognitive impairment and altered mental status, cramps, eye problems, respiratory, fungal, and urinary infections, elevated liver function levels, extreme foot pain and edema, constant abdominal pain, hypotension, and ascites, where his stomach swelled like he was carrying a 9 month old baby.
With the symptoms came weekly hospital and blood test visits, numerous emergency room visits, hospital admissions, enduring vast procedures like pulling fluid from his stomach, endless tests, x-rays, scans, ultrasounds, angioplasties to expand the veins of his liver, being opened up again in 2010 after being hospitalized overseas on vacation, and hospitalized again for many months at UCLA ICU.
In the hospital, my dad often said that he felt like a guinea pig.  But he also said he would rather go through pain than leave us.  He was a true warrior, taking pain and suffering like a champ, and he did it to his last breath.  A couple weeks before his last days, he laid in bed so weak and paralyzed by his sickness, still smiling the entire day, lighting up the room, an exemplification of how he lived his life.  I wish he survived so that I could've shown him the scene he went through in coma during the ICU stay, it looked like torture, a graphic scene where they put a balloon in his stomach stretched to the ceiling for three days to stop internal bleeding.  He would have laughed looking back if he had survived.  Another torturous event he often recalled was having an ice blanket put on him during a bad fever.  He told us the freezing was inexplicable and hated the moment with a passion.
And though these episodes were very tough for him, when my sister and I came around, dad hid his pain well; he never lost his smile, and the room was always brighter, no matter what situation he was in.
My mom, his personal everything, endured this very challenging journey with him through thick and thin; for 8 years, each day we were copied on hundreds of emails on the daily progress and activity.  It was a 24 hour, round the clock, full time job.  Scott and Oonah our main liver coordinators, were the best, as were all the doctors and nurses, and made sure dad was always taken cared of.  Mom was always on top of things, making sure my dad's 30+ pills a day in medicine were always on hand and taken at the right time.
She always kept us informed and made sure that we knew what to do and where to go with dad in case something happened to her.  She urged my sister and I to visit him often; those reminders pushed me to visit him everyday at lunch and give him massages often; because of her, I'm glad to have had a such a relationship with dad, and lived with little regret.  God bless my mom for everything she has also been through.  While taking care of dad, she was also taking care of our now 104 year old grandma.  Dad and grandma were both her patients and lived longer lives because of her great care.  You want this lady on your side if you are ever sick or in the hospital.  Mom has a heart of gold and a will of titanium, just like my dad.  Without her, we would have never made it this long and this far.
Turning to God was my dad's strength.  He was active in the church and bible study, engrossed in in-depth research on bible verses; studying verse meanings in depth, giving attention to detail, studying the bible wholeheartedly and sharing insights with thorough feedback.
He was one of the co-founders of Simbang Gabi at St. Bruno parish.  He was very passionate in the preparation and planning of this Filipino traditional event, making sure we were well prepared for the occasion. One year he even rented an outside heater due to cold temperatures, though we ended up not using it.
He was a volunteer for the Fatima Center, cutting and ironing thousands of green scapulars.  The Green Scapular is frequently given out at hospitals by chaplains and Eucharistic Ministers in the hope of obtaining physical healings.
Dad also prepared the St. Bruno prayer group monthly newsletter.  He spent numerous hours in researching, preparing and sharing interesting content such as the lives of saints, religious images, upcoming Catholic events, and jokes.  His last October newsletter was 13 pages long.
He loved to paint and often painted religious material, or simply what he felt was nice or interesting.  The styles in his paintings reflect much of how he was feeling in that moment of his life.
Our latest found treasure was a picture of him and Jesus, which he painted a couple years ago.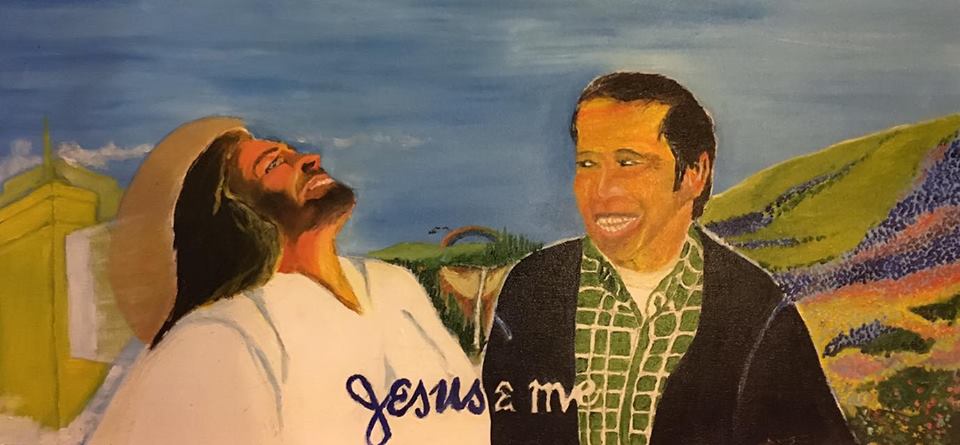 Even when dad's ammonia levels were up, and his mind altered, he still knew very well how to recite prayers and call on the saints and God.  St. Anthony was one of his closest.  During his last days, he was diagnosed with having an unexplained phenomenon called sundowning; while seeing angels, people visiting him, and sometimes ducking for cover from evil spirits, I reminded him that St Michael is with him and he is safe; he immediately snapped out of his terrifying hallucination with those words about St. Michael, and with a calm and confident face, looked and me and said "I know".  Perhaps he was really transitioning into the next life at the time, us humans just can't understand or explain til we get there.
My dad is one I could write effortlessly and endlessly about, because his beautiful traits and talents fill my mind like no other person I've known.  I know many of you here today can easily write your own stories too, and we welcome everyone to share them, if not an opportunity here, please share on his website
guestbook
.
To the most amazing dad I could ask for, my hero, my mentor, my advisor, my biggest cheerleader, who supported me in everything in life, thank you for being the outstanding person that you were, for loving your family and friends unconditionally, for being a positive influence and role model to everyone around you, for being such an amazing husband, dad, grandfather, brother, uncle, son-in-law, cousin, friend, and a man of God; for always smiling and laughing, and for being the positive force you were even in pain and suffering; for staying so strong and fighting to live for your family each and every day.  Thank you God for blessing us with a good life, made possible by this great guy.
My dad always went out of his way to make us happy and together with my mom, provided us with a good life:
He paid for my college with his 401k
He freely lent me his gas and atm card in high school and college when I was broke
I could always confide in him and tell him when I was in trouble when I couldn't tell my mom
He always bailed me out when I was in trouble
My dad was my best friend and my mentor:
When I was 5 years old, he taught me how to play "Chariots of Fire" on the piano which was my stepping stone to playing the piano by ear
He taught me basic guitar chords which was my stepping stone to playing guitar
He taught me how to draw and paint, making me the best artist in the school, called out of class to go draw like I was a star football player
Because of him, my sister and I had the best professional presentations, outshining everyone at school
He solved our calculus math homework when not even the college teacher could
He taught me how to ride a bike and drive a car
In the last 8 years, he was my stock talk buddy and business mentor
Dad always tried to live each day like his last, often saying that any particular occasion may be his last and that we should have a party and invite all his family and friends.  While our hearts ache terribly, dad tried his best to prepare us for this day.   His graciousness in life carries on in death; though tough, he tried his best to make sure we could survive a little easier without him.
He left a notebook of his 100s of passwords
Got Japanese bidets installed throughout the house
Bought replacement filters for all types of appliances
Set the house up for emergencies, complete with water, food, portable stoves and toilets, flashlights and batteries, and diesel backup generator
We even found an end of times kit, complete with candles, holy water, scapulars, prayers, etc.
He put together an orchestrated business plan for my business complete with suppliers and pricing for machinery
Dad did a great job of documenting his life.  When we were kids, he recorded everything on a huge Betamax camcorder that he lugged everywhere.  After his transplant in 2008,  he converted all of our VHS and Betamax home movies to DVD.  During his 5th year liver transplant celebration, he did recordings of acapella singing with his brothers.
He wrote an autobiography and a piece on his "Trek to the high mountains" during his challenging first liver transplant.
During his last days before being hospitalized, dad put together a 30 page PowerPoint on pain and suffering and presented it to his 20 person bible study, explaining why pain and suffering exists.  If you want some inspiration, these are all great materials to read.
Besides the home movies, most of this material is available on his website, livertransplantjourney.com.
That was my dad.  A gifted person, intelligent, creative, artistic, generous, modest,  honest, patient, a thorough planner, overachiever, problem solver, super talented, funny and cool.  There are not enough positive words to describe or compliment my dad.
Dad always tried to win the lotto, his ultimate goal to help people in need, doing all types of statistical, colorful analysis on excel spreadsheets.  But like mom said, marrying you was like winning the lotto, and we had already won big time!
I will miss:
Your humor and your dancing
Your positive no worries attitude
Your cooking, your bbq, your chilean sea bass, your famous salmon paksiw, your smoked tinapa fish
Your craftsmanship, handiwork and wood-working talent.  You were able to build and make almost anything you put your mind to, with ingenious engineering.
Our personal painter and artist, drawing and painting anything that came to mind
Your intricate planning and attention to detail of everything, from vacations, to outings, to parties, to researching stocks and the best things to buy
Your weekly reminders to buy lotto with your confidence in the winning numbers
Most of all, I will miss talking to you and telling you about my day and latest accomplishments.  You were the drive that always motivated me to be successful; I wish I could have gotten to pay you back with multiple years of interest.
With loss always comes regret, and with that, I'm sorry:
I didn't write this before so you could hear it
I didn't give you more massages
We didn't get to go to Japan again
You didn't get to see me get married or have kids
We didn't get to go fishing again or spend more time together
You didn't get to spend more time with your grandson
Pops, you are my hero and I will think of and miss you every day.  My  mentor, advisor, biggest cheerleader, the person I could always confide in, though my heart aches every second of the day and night, we will miss you terribly.  Please watch over us and be our guardian angel.  Appear to us in our dreams and maybe send us the winning lotto numbers for the week.  While we terribly hurt, we can only be comforted  that you are free from this earthly pain.
Your amazingness goes on forever and your legacy lives on through your family and everyone you have touched.  We thank you for making a positive difference in the world.  The attendance and outpouring of love, shows the impact you've made on people's lives.  I can only dream that someday, I'll be close to being as loved as you, and the amazing, outstanding and accomplished person you were.
Love you with all our hearts to infinity, til we meet again.